2023 Career Showcase Highlights
Early in May, CFA Society Sydney hosted a much-anticipated Career Showcase event. The event was a unique platform for university students and CFA program candidates to connect, expand their networks and delve deeper into the investment industry. Attendees were not only provided with insights into various graduate and internship opportunities, but also received valuable recruitment advice. The Career Showcase featured multiple engaging sessions, each designed to offer profound insights from industry experts, such as:
What are hiring managers looking for?
A panel discussion featuring hiring managers, HR professionals and recruiters shared valuable insights into the skills, experiences and qualities that recruiters look for in potential hires. Non-finance or economics students also received expert advice on how to excel in finance roles and stand out from the competition.
Multi-asset investing in a post COVID-19 World
In the wake of the COVID-19 pandemic, the investment landscape has undergone significant transformations. In a session dedicated to multi-asset investing in a post-pandemic world, seasoned portfolio managers engaged participants in discussions about the challenges and opportunities in this new era. They explored the impact of factors such as inflation, interest rates and geopolitical tensions on investment strategies, shedding light on industries and sectors poised for growth in the post-COVID era.
A deep dive into valuing listed and unlisted assets
A deep dive into valuing both listed and unlisted assets captivated participants in an interactive workshop. Two industry experts shared their knowledge of financial modelling and valuation methods, uncovering the diverse techniques used to evaluate listed securities and unlisted assets such as private equity, private debt, real estate and infrastructure. Attendees gained insights into various valuation methodologies and the challenges associated with each, unlocking hidden investment opportunities.
Future proof your career with AI
Recognizing the growing influence of machine learning and AI in the finance industry, a workshop was dedicated to future-proofing careers. Expert panellists provided invaluable guidance on staying ahead of the curve and developing the necessary skills to thrive in this evolving landscape. Attendees gained insights into the transformative power of machine learning and AI and its impact on the nature of investing.
Beyond the informative and interactive sessions plus invaluable networking opportunities, expert recruiters were also on hand to review participants' CVs and provide personalized feedback to enhance job applications. Additionally, complimentary headshots for LinkedIn profiles were provided, equipping students with a professional online presence to augment their job-hunting journey.
Over 100 participants attended and provided overwhelmingly positive feedback. It was truly inspiring to witness such dedication and passion from the next generation of finance professionals.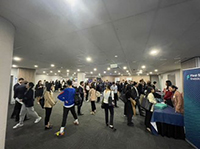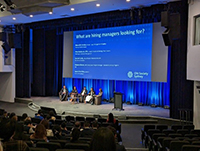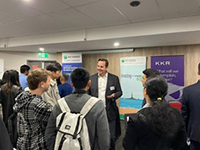 Date: 29 May 2023
View and register for upcoming events >
Achieve one of the highest distinctions in the investment management profession: Become a Chartered Financial Analyst® (CFA®). As a CFA® charterholder, you will have the knowledge and the skills to thrive in the competitive investing industry.