Essential skills for success in investment management
In a dynamic industry, such as investment management, the knowledge and skills needed by professionals for mastery can change quickly. It is important to differentiate the foundational elements necessary for minimum competence and emerging skills. The CFA Institute Career Skills Framework is a competency model CFA Institute developed to identify the technical, ethical, professional and business competencies necessary to succeed.
The identified four types of skills needed to succeed over your career:
1.  Technical skills
This includes the most commonly covered capabilities in undergraduate and graduate degree programs and form the foundation of the CFA Program—for example, financial analysis, asset classes, and portfolio management skills. Technical skills also include more in-depth and emerging skills, such as ESG analysis and the use of artificial intelligence and machine learning techniques. Developing these technical skills is most important on a relative basis at the start of one's career.
2. Soft skills
This includes skills related to communication, collaboration, relationship management, empathy, and creativity. Often, industry leaders report that soft skills are difficult to find in the industry, and this area deserves ongoing attention and growth for most investment professionals.
3. Leadership skills
This includes the abilities to articulate mission and vision, instil an ethical culture, manage crises, and maintain good governance. These skills become increasingly important over one's career trajectory.
4. T-Shaped skills
T-shaped skills are a combination of deep knowledge in a single domain and wider knowledge in other fields and importantly, the ability to connect them. It takes time to acquire enough knowledge to have T-Shaped skills. These are generally the most valued type of skills according to hiring managers.
The chart below shows how a typical career might progress in terms of skill development.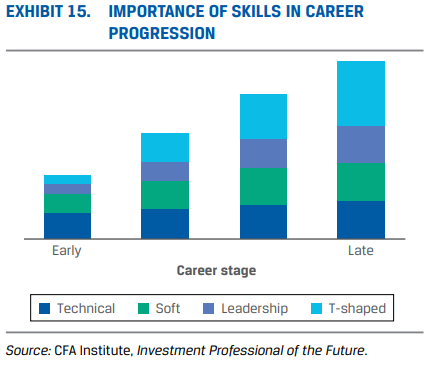 Curated by Alex Lau, research findings from CFA Institute
Date: 10 November 2022
To read more about how these four types of skills are valued in the industry and recommendations for future professionals:
Download the Future of Work in Investment Management >
Achieve one of the highest distinctions in the investment management profession: Become a Chartered Financial Analyst® (CFA®). As a CFA® charterholder, you will have the knowledge and the skills to thrive in the competitive investing industry.